Are you a cellist or do you know a cellist who could possibly be looking for some fresh ideas on where to bring the majestic babe to play with? Don't underestimate the power of orchestra nerds when it comes to their instruments, for their passion will bring them to the farthest reaches of the world that you can only dream of.
The violoncello has come a long way since the first string of models commissioned from the Amanti family, like a child that has blossomed into a fine lady. To this day, her lady-like elegance, versatility and wild strings are elements of nature that can only be tamed by the men and women who are worthy. These people are cellists. Armed with only a bow and rosin, they traverse the world and connect the people to the melody sung by Mother Nature herself. Of course, not to forget taking a good picture and then uploading it to brag about it.
Anyways, here's a collection of some cool places that you can play a cello.
---
Date: 5 April 1992 – 29 February 1996 (3 Years)
Location: In a ruined building during the siege of Sarajevo, Bosnia and Herzegovina
Cellist: Vedran Smailović
This man, famous as the "Cellist Of Sarajevo" played at ruined buildings and funerals even though he was in a highly dangerous war zone. Photo – Wikipedia

Here is one of him playing at a graveyard. Photo – Judith Hougen

Date: 12 August 2013
Location: Kharkiv Desert
Cellist: Yulia Sevastyanova (Piano limonCello)
The hottest cello gig trend going on now. Let the strings echo throughout the desert sands.

Beat this by playing inside a pyramid.
Date: October 2009
Location: 19th-Century Opera House, Camden, Maine (Poptech Conference)
Cellist: Zoë Keating
Ex-member of cello metal rockers Rasputina, Zoë gives a cool demonstration of how to imbue the strings with electronic speakers to create the kind of music that makes the symphonic metal genre possible. It's nice to play for Poptech conferences.

Date: 20 June 2012
Location: Fiorano
Cellist: Mario Brunello
Here we have our cellist compare the sounds of music that come out of cello strings and the engine of a V12 Ferrari, as he opens a solo concerto right in the F1 pit. This great shot was taken by Alberto Novelli.
Source – Ferrari Magazine
Date: Feb 2013
Location: Seaside
Cellist: Giovanni Sollima
Isn't it nice to be able to play while the waves add another layer of music to soothe you?
Photo – Gian Maria Musarra

Playing by the beach is nice too. Photo – Mircea Marinescu
Date: August 2012
Location: Birmingham
Cellist: Laura Moody
Now I've heard of playing on airplanes but a helicopter?
Photo – Adam Fradgley

Date: 28 April 2008
Location: Palm Studio, Jakarta
Cellist: Bunga
This photo might not be in a natural environment, but would you be brave enough to play on an old wooden boat by the silent river in a creepy forest at night in Indonesia?
Images – Kapan Lagi
Date: 15 June 2010
Location: Sitka, Alaska
Cellist: Armen Ksajikian
In what has become the legendary "Bach for Bears" performance, our humour-loving musician and gig veteran of the Sitka Summer Music Festival, Armen Ksajikian made this stunt famous by playing his cello close to the bears. Because it's a $30,000 instrument, you'll notice he's tied it to his hand, just to be safe.

Date: 13 Jan 2013
Location: Empire State Building
Cellists: Luka Šulić and Stjepan Hauser (2Cellos)
How cool would it be to play the cello at the top of a building, especially in that thunderous style incorporated by these two? Let the cello howl at the wind instead.
Date: 28 February 2013
Location: La Kiva, Terlingua
Cellist: Charlotte Teer-Egerton
There's a cave room right here in La Kiva, a very nice spot for the sounds of acoustic cello to reverberate along the walls – and this quartet seems to be taking full advantage of it.
Source – Terlingua Music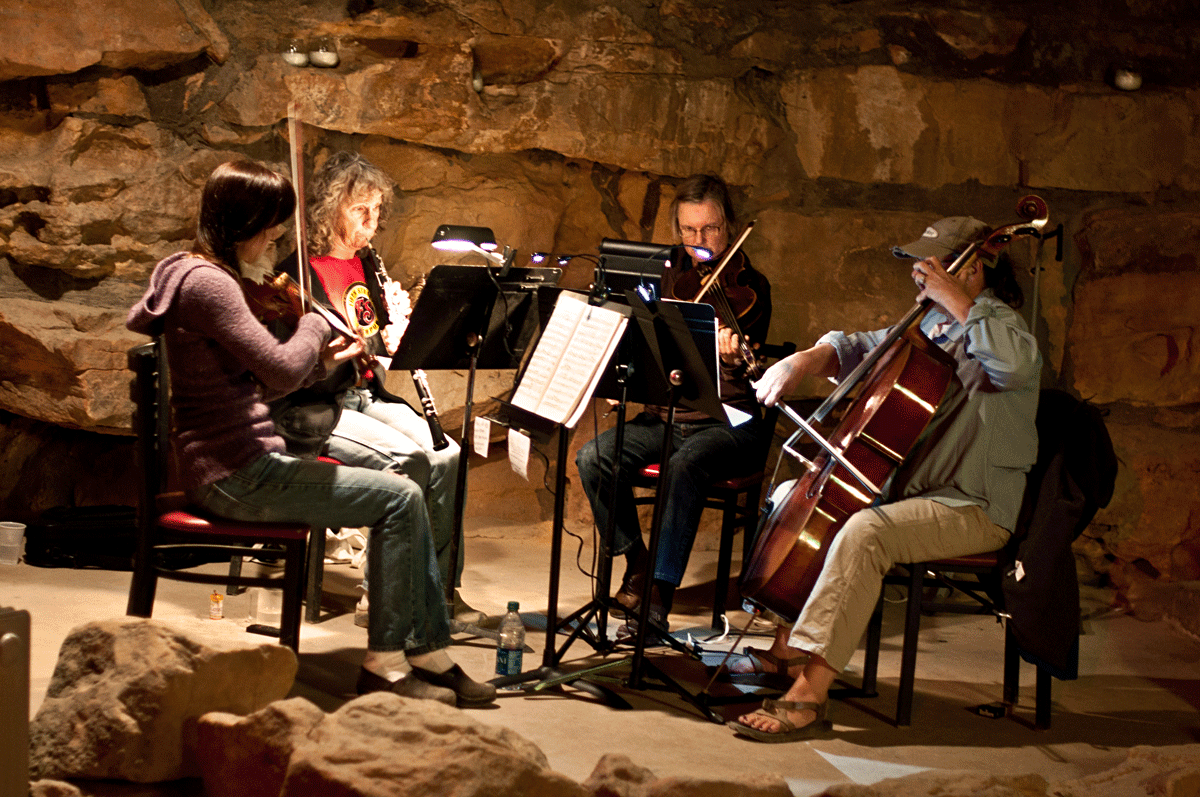 Date: 2 May 2009
Location: Wisconsin
Cellist: Sarah
We don't really know what is up with cellists and posing on train tracks lately, but they do look cool. Will Bruno Mars come in time to save her?
Source – Di Matti Photography

How about taking a trip into the forest on a calm morning to play the sound of Nature?
Cellist: Tina Guo
Or if you're feeling a bit lazy you can just chill on the bed for some pizzicato. That's cool too.

If you had the opportunity to play in a slum with the Landfill Harmonic, would you join them?
Cellist: Steven Sharp Nelson (The Piano Guys)
Photo(s) – thepianoguys.com
And of course, last but not least! The funky star of the cello world shows you guys how it's really done. Now as a cellist, these should definitely be in your bucket list. Starting with the Great Wall?

To playing on snow in an Arctic wonderland?

Bryce Canyon? Tough one, this. But if you can secure a snowy mountain, or even better – a volcano!
If you wanna beat them, go to the Taj Mahal instead.
How about a galaxy far, far away?

If you wanna beat this, do it on top of a moving lorry. In the rain.
Cellist: Dead
You…are the cello.
You know what they say, if you can't bring the chamber to the music, bring the music to the chamber. Of course, the imagination is far more complete than this list. So just keep calm and play cello.
So, how many of these places have you played?